A closer look at Dublin's neighbourhoods.
Wanton quirkiness, perennial liveliness and an endearing touch of shabbiness have always been part of Phibsboro's innate appeal. It was where I wanted to live as a DCU student in the late nineties, instead of the gentler, more refined environs of Drumcondra where I was instead. Phibsborough was where the cool kids hung out, with an ice rink, a surfeit of charity shops and good pubs like The Hut, where the Johnny Cash Appreciation Society were in situ on a Sunday night. And then there was McGowan's, where young love was almost certainly guaranteed to bloom, especially after a few drinks.
Fast forward to now and Phibsboro (or Phibsborough – both spellings are considered perfectly acceptable) retains much of the charm that made it so attractive back then. Location wise, it's pretty much perfect, being a few minutes from the city centre but also close to the perennially wanderable likes of Glasnevin Cemetery and the Botanical Gardens. Strictly speaking, D7 never been one of the most city's most fashionable postcodes, but this could change with some significant developments in the pipeline. The first is the extension of the Luas line, which runs through Phibsborough from next year, which may ease up traffic congestion, a long-standing problem for residents. The second is Dublin City Council's planned redevelopment of Dalymount Park, home of Bohemian F.C., with an impressive €20m makeover planned for the Dayler.
Then there's the sale of Phibsborough Shopping Centre, a 1960's holdover long considered an eyesore on the neighborhood's skyline, now likely to be demolished and redeveloped. The area's current residents are looking to the future in a pro-active fashion, with the Reimagining Phibsborough community group working towards improving the area. They're also behind Phizzfest, the annual festival celebrating local artistic life.
But this all lies ahead. As it stands, there's still much to love about Phibsborough, from its splendid canal walks to the somewhat amusing positioning of the Miss Euro sex shop directly in the shadow of St Peter's Church, venerated for its stained glass windows – especially Harry Clarke's stunning work The Adoration of the Sacred Heart. The neighbourhood welcomes all sorts.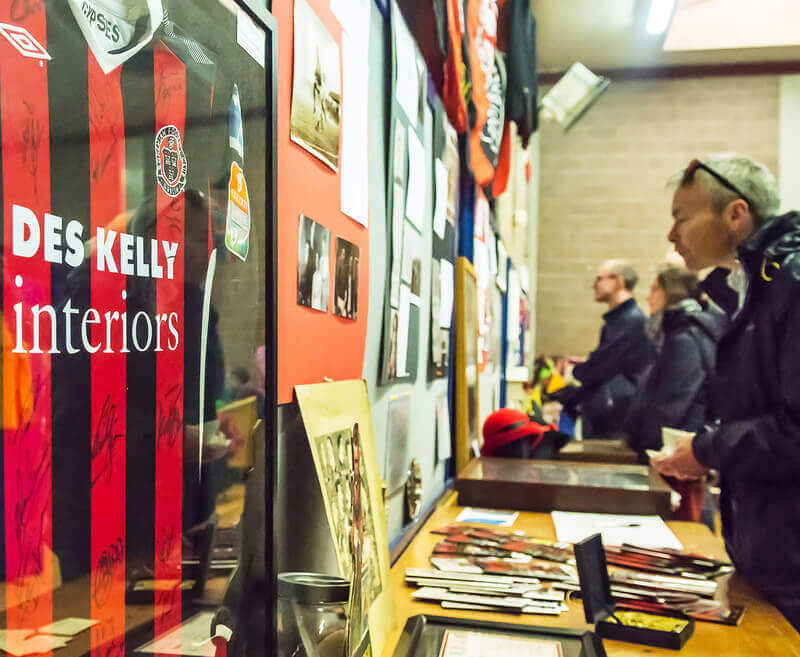 While it's never been considered a choice dining destination, you'll never go hungry here. Takeaway joints aside, good pub grub is available at Porterhouse North and hearty and homemade fare can be found at long-established Phibsborough favourite, The Woodstock Café. Signs of gastro gentrification can even be found via Bang Bang, a new deli/grocery on Leinster Street. The Bodytonic crew (who run happening Dublin taverns MVP and The Bernard Shaw) opened a sports bar called The Back Page last year, which serves arguably the best pizza on the northside; it joins other hospitable pubs such as The Brian Boru and the Bohemian.
Sadly, it is no longer possible to go ice-skating in Phibsboro. The Silver Skate rink, previously The State Cinema, is now a Des Kelly Carpet outlet. But it's still worth popping in for a gander, as it retains many of the cinema's original features, like the balcony and grand staircase.
And just in case Phibsborough's glittering future means that some of its current allure undergoes a modification, I'd suggest a tour of its Greatest Hits as soon as you can. This would involve a sticky sweet treat from Thunder's Bakery, a satisfying rummage through the outstanding book selection in the Irish Cancer Society Charity Shop, a canal side stroll and a pint in the Hut, to create your perfect Phibsboro experience.