The world, according to a Dublin foreman
This is no occupation for old men – to twist what Yeats said.
I wouldn't mind, but I'm not even that ancient. Climbing up all these flights of scaffolding. Then the scaffolding gives way to ladders. Ladders for a couple more floors.
As a result, the sweat is breaking out when we get up here: this windswept top floor with stunning views. If only it was safe to stop watching your footing and look out on the city and the Liffey flowing into Dublin Bay.
Painting a picture of the landscape
We're down on the North Wall, near the 3Arena. Commanding these stunning views is a nine-storey building – not counting the two underground floors – that will offer some 33,000 square metres of premium office space.
All around is a hive of activity. And I'm not just talking about the building we're standing on. Looking over at the south side of the city there are 43 cranes visible.
Back in the boom days, some witless wonder said all you had to do was count the cranes to get a rough idea of the percentage growth of the country's economy: a tiger in the national tank.
It was quiet for long enough. Then, it just kicked off again. It's not quite back to the madness, but we are getting there.
However, now we know that riding a tiger is a reckless pursuit. One that ends in tears. There was a name emblazoned on that tiger, of course: Anglo Irish Bank.
Those bold boys of Irish banking were just about to move to bigger, better offices – ones that suited their image. And then, bang! The tiger was shot. The whole eco-system went to rack and ruin and the shell of the Anglo building stood there as an ugly reminder of the folly of financial hubris.
The building has now been finished. And the identity of its new tenant adds a touch of irony as the old Anglo building is now home of the Irish Central Bank. And we're on their next-door neighbour's roof.
Insights from a site foreman
Wexford man Eoin Redmond is site foreman with Walls Construction. He says we are not yet back at tiger levels of development – but we're getting close.
"It was quiet for long enough. Then, it just kicked off again. It's not quite back to the madness, but we are getting there," he says.
It was bizarre that numerous derelict sites across the city kicked into action in what seemed like the same week.
"It was like someone turned on a tap, but I suppose it came with the banks starting to lend again," he says. "Also, there is a lot of foreign investment coming into the country."
Foreign funds buying up NAMA properties for bargain rates has not been without its controversies and critics, of course. However, Eoin points out the fact that there are jobs again.
"I know there are two sides to it," he says. "The vulture funds and whatever – but if you look at the amount of people that are getting employed out of it…"
The Romanians are maybe the Irish of 30/40 years ago when they went to England.
There are 150 people working around us, he adds. Then, he points over to the south side of the city: "Look around, there's construction workers out there under each of those 43 cranes."
Unlike the last boom, Eoin says a lot of his workers this time round are Romanian, rather than Polish. "Very hard working, very easy to get on with," he says. "I could not speak highly enough of what I know of people from Romania. The Romanians are maybe the Irish of 30/40 years ago when they went to England".
The return of the cranes
Given the site's position at the mouth of the Liffey, Eoin says they have been blessed with a mild winter.
"We had that storm Doris and we had to close the site completely," he says. "When a big storm like that comes blowin' in, it's time to say 'go home lads'. It's not worth taking the chance."
The cranes, hovering above us, are the 'heartbeat' of the job. And you need some nerve and a cool head to be an operator. "You see them in the wind when they are lifting and the cranes are swaying," Eoin says.
It's great to see the cranes back on the skyline.
There's a certain wind speed above which they can't lift. "So often they have to stop and wait it out up in the cabin," he adds.
The drivers on site are in their 30s and 40s. So it's a young man's game?
"I suppose you need to be young and you need to be fit to get up the ladders," says Eoin. "And then the concentration level has to be second to none. Your peripheral vision, your hand-eye coordination all need to be sharp and focused. You're driving those machines all day long and there is basically people's lives depending on you."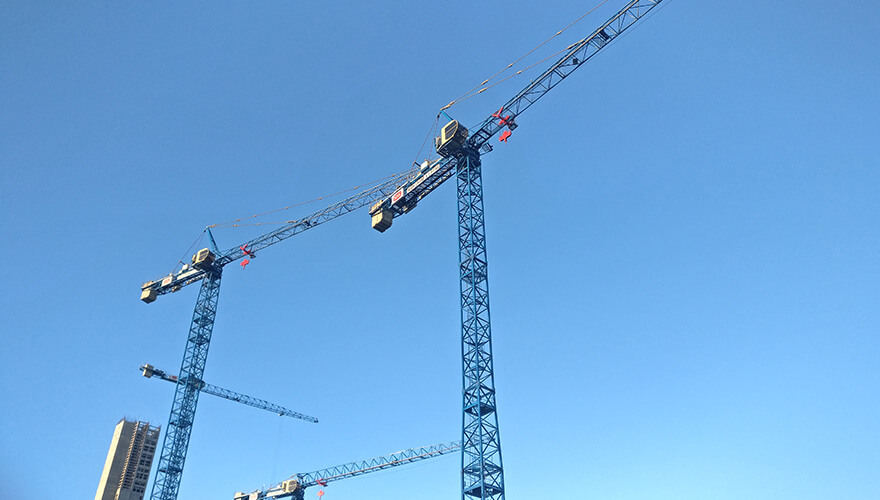 The biggest crane on site is 85 metres high and it takes the operator almost half an hour to get up to his cabin. Asked if they take bottles with them in case nature calls, Eoin says there is a relief guy that circulates around giving the operators a break.
When the site hits its peak, there should be 400 people working with 27,500 cubic metres of concrete. "Divide that by 7.5 to tell you how many lorry loads," we're told.
Modern site safety standards
With all these people and all this activity, what about accidents? "We've done 200,000 hours without a reportable accident," Eoin tells me with pride.
Certainly, you notice health and safety immediately. You cannot get on site without a pass so we had to be escorted in. Then, it was all boots, hard hat, hi-vis, glasses and gloves.
Horseplay just does not have a place any more.
"There is risk, but you put so many safety preventive measures in place that you try to minimise it," Eoin says.
Some of the older generation may moan that the 'fun' has gone out of the job due to all the health and safety measures. "Though it wasn't really fun – it was risk-taking, taking chances, gambling with the possibility of people getting injured," he says. "That does not have a place on a modern construction site."
He reiterates: "Horseplay just does not have a place any more".
Construction's domino effect
Looking across at the new Central Bank, Eoin says it's good to see the building finished and functioning. It served its time as a national act of architectural penance for long enough.
"That Anglo building was kind of a symbolic reminder of the recession and it was left lying there as an eyesore," he says. Now, it symbolises that there's life again.
"And it's great to see the cranes back on the skyline," he says. It helps all aspects of the economy. "Take the shops around here," he adds. "You go down the Spar and there's a queue at 10.30 in the morning."
For breakfast rolls, we assume. "The diets don't seem to change," he laughs. Then again, when you are doing a gruelling manual job all day long, you can easily burn one off.
Although work may be picking up again, since the recession, Eoin sees very few local apprentices. "You don't see young block layers or plasterers," he says. "You may see some plumbers or electricians, but the heavier manual jobs, people are just not doing them."
It seems as societies get richer, fewer people are interested in manual labour. "You can earn your money a lot more comfortably sitting behind a computer than in the trades," Eoin says, "but then you're not out on a day like this. Horses for courses, but I know I could not see myself doing anything else apart from the building game."
And, with that, someone needs the foreman's attention. So it's time to hit the ladders for the climb back down.
Learn more about the city's work culture with our articles on working in Dublin.