The business owners in George's Street Arcade are a diverse bunch, coming from the likes of Nepal, Poland, France and Venezuela. Join us as we meet them and learn about what brought them to one of Dublin's best markets.
The much-loved George's St Arcade is more than just a quick way to get to Drury St. It is a living breathing illustration of integration from all over the world, under one uniquely Dublin roof.
As we approached the green gates, we noticed an impeccably dressed lady with blossom in her hair; floating gracefully from stall to stall, greeting its inhabitants, straightening signage and cooing encouragement.
It's Gwen Layden of the Layden Group – the second-generation owner of the Arcade building – and without a doubt, a leader of her community. Why is this arcade so unique? "The mix of people is what I love most. Business is about people. The eclectic mix of products and people is second to none, I suspect, and it is truly a Community."
It is to her credit that this arcade is a crucible of creativity, colour, and can-do attitude, all bubbling up from an eclectic melting pot of multiple small independent businesses. Gwen spells out her inclusive, ethical and custodial approach: "The owner runs each shop or stall, there is a complimentary mix and not direct competition. It means that everyone can rest easy knowing their business will have this space to grow uniquely and without being undercut or copied".
Each stall is unique, but all of them are united.
The business owners show fierce loyalty to the strong community here, citing the typically excellent footfall, camaraderie, and most of all the decision by the Layden group to pause rents earlier in the lockdown and subsequently discount them as the city began to re-open. Their bond with Gwen is palpable.
Amit Bajrachrya, originally from Nepal, came here with an MBA, by way of Liverpool, eight years ago to set up a gift shop Irish Gifts 4 You. He has since pivoted to masks. "I always wanted to work for myself. When I came for a visit to Dublin, it felt like a lively city with lots of engaging people. This arcade had great stall sizes and plenty of footfall. During the challenging times, people have made a point of supporting our businesses, shopping local and even refusing a discount."
Jonathan Parra, the charming Venezuelan owner of Checkpoint Pizza, made us stay for his remarkable life story (an article in itself) with a generous offer of pizza. Jonathan told us his story of working his way up from kitchen porter to restaurant owner. It was hard for him to get a job initially. "When you go abroad you don't start with a network – it's not easy". He ended up buying the pizza joint where he was cheffing, through sheer hard work and very long hours. "My family is my Engine. I worked all hours. Always scared I was going to fail. But eventually, I settled into the business and now, I can take time off."
"People in Dublin make all the difference. Dublin is my home now. They know my name here, and it feels like family. I feel comfortable here." Any tips for potential migrant entrepreneurs? "Be open, be brave and be confident. Irish people will support you when they get to know you. Just be yourself. They'll be ok with that."
Businesses run by Irish owners also contribute to the eclectic feel of the place. Some are institutions in their own right, like Simon's Place, which is celebrating 23 years. Three generations have run the Station body piercing and silver jewellery establishment, and they've been in the arcade for 40 years. Donal, who runs Siam Su, has been selling from his stall for 26 years and had kicked off with merchandise from Thailand. He's now selling T-shirts. Tomás Póil's Man of Aran fudge stall sells the 24 different flavours, all based on his grandmother's original mixture. Even a stop at the Lolly & Cooks kiosk might lead to a chat with their Mexican Barista!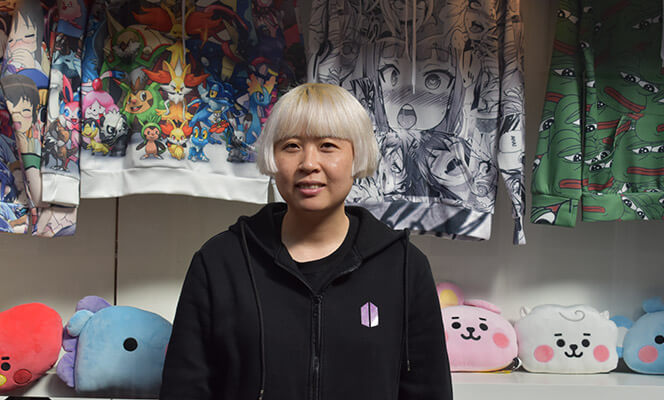 We stop into RARE, run by Chinese owners who came here ten years ago to find more opportunities. They supply contemporary gifts and anime/manga merchandise from Asia. They spoke highly of the support from building owners too. "They're good people. It has not been easy for them to discount the rent, but they are very much appreciated."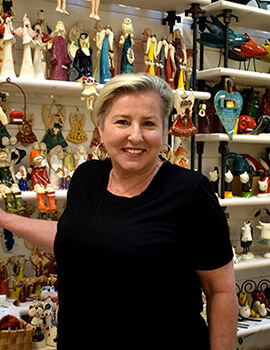 Magda Niechwiej owner of Unique Crafts and Design, originally from Poland, has been here since 2006. "The people in Dublin made me want to stay. The atmosphere and vibe in the city are really special. The atmosphere at every level – support from my neighbours, customers and even the arcade owners." What would your advice be to others who want to set up their own business? "A good location in the city matters. Don't be afraid to pay extra for the footfall. I would also go to the Local Enterprise Office for business advice."
Dublin is a richer place, in more ways than one, thanks to the contributions, hard work, enthusiasm and entrepreneurial spirit of our diverse community. It wouldn't be possible without the warmth of the local communities that receive them, though. That's our Dublin, let's keep it colourful and alive.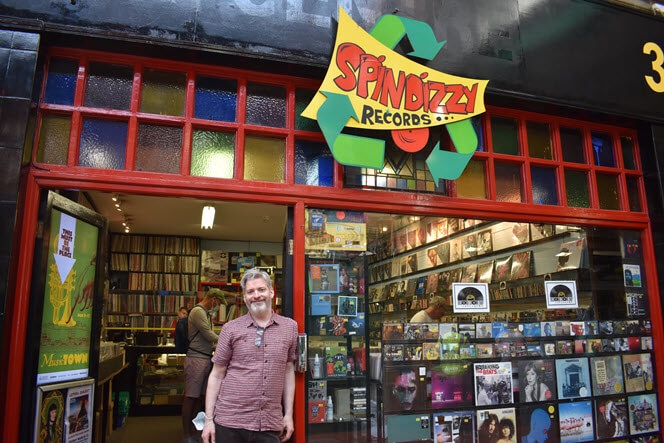 Supports & advice
What supports are available from the Local Enterprise Office (LEO) for prospective entrepreneurs? We had a quick chat with Dave Connolly, Business Advisor at Dublin City LEO. "I would encourage anyone thinking of setting up a business to attend one of our Free Weekly Business Advice Clinics. You'll gain an understanding of everything from how to register a company in Ireland to the offerings available from the various enterprise support agencies."
Dave points out the growing richness and variety in Dublin's food sector, a visible result of our multicultural business scene. Some of LEO's successful clients include Gunmoo Kim of Jaru, a contemporary Korean Food business set up by a student. Another great success is Oliver Wei of Asian Artisan Food, a new Chinese dumpling manufacturing enterprise. Want support no matter what sector you're looking to set up in? Visit the Local Enterprise Office website today.