Women in business come from a diverse array of backgrounds, personalities and approaches. Women in Business Networks provide a forum for these entrepreneurs to come together and learn from each other.
We checked in with the Dublin City Local Enterprise Office (DCLEO) Women in Business Network and met some inspirational members.
Aine McGurk – Dainty Bear
Aine McGurk has a thriving retail and wholesale business selling Irish-designed baby shoes and accessories online at daintybear.com. As an IT graduate with a computer science background, Aine found herself wanting more than her first job at Microsoft could provide. "Everything changed with my first baby in 2017. I always loved fashion, styling and dressing up and realised there was not much to choose from in pre-walking babies; my baby was my muse."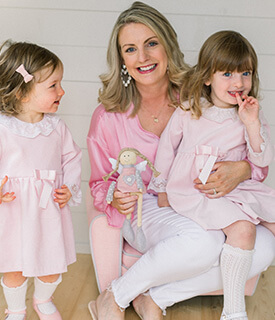 Starting a family motivated her into self-employment as it delivered more control, autonomy and flexibility. Aine also found a creative outlet in designing and customising the products in her shop. Her background in IT allowed her to build the website she needed.
Following her soft launch on Facebook, Aine's second baby prompted her to commit 100% to the business. The advice she got from her first 'Start Your Own Business' clinic with DCLEO was vital: "You reach a point in your business when you either go big or go home."
Joining the Entrepreneurs Academy THRIVE program of entirely funded evening classes, then gave her the business skill sets she needed, including guidance on supports, suppliers and how to use bootstrap with the right apps and tools.
Aine feels empowered by Women in Business Network events and the opportunities to expand her network. It's brought home the mantra she remembers from her time in Microsoft: "It's important to make other people great". She believes resources are out there for anyone else wanting to do the same – you just have to reach out and ask.
Kate O'Moore – MAKER Creative
Kate O'Moore's dive into entrepreneurship came in 2016 when she established her graphic design practice MAKER Creative. She previously worked in advertising.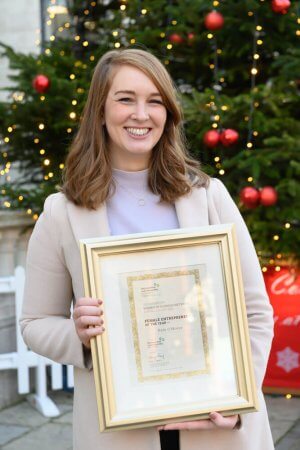 As winner of the 2020 Female Entrepreneur of the Year with DCLEO Women in Business Network, Kate has proven that her bespoke Creative Graphic Design services have thrived thanks to the day-to-day support of mentors and peers in her network. The judges commended her unrelenting innovative approach and drive. She recommends applying for awards as it's both a motivating factor and a good marketing tactic (she previously won the 2019 Rising Star award).
Starting her business from scratch was daunting, but her excitement for creating something new overcame the fear. A Social Welfare programme, 'The Short-Term Enterprise Allowance', also gave her the necessary training in accounting skills and how to run a business. When all she had was a laptop, she began with small steps, spreading the word with friends and family. It was a big moment when she got her first gig from a stranger! "You can achieve everything with small steps. You build confidence and start making your next call for more business. Success won't be an overnight thing. You will make mistakes – but be a quick study."
Kate believes the positive start-up ecology in Dublin and the familial Fumbally Exchange workspace has helped her business develop too. The Local Enterprise Office's Trading Online Voucher has recently helped her upgrade her website, and business leads have increased since. She's also providing digital courses to help small businesses understand design and good visual branding.
Maeve O'Malley – Meltdown
Maeve O'Malley is a fearless self-starter and proof that some are born AND bred 'serial entrepreneurs'.
Her entrepreneurial story begins with her first cafe straight out of college – a time when most people enter the job market. Training and working as a chef led her to participate in many food market enterprises before working at Freshways as a Development Chef – she loved the autonomy and creativity. A stint in project commercialisation at Coca-Cola followed, which helped build the capital Maeve needed for her current business.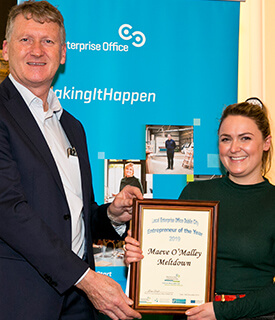 Inspired by trips to grilled cheese outlets in the States and seasoned by a zig-zag path of market-based enterprises in the past, Maeve finally settled on her Irish food brand: Meltdown.
In the past two years, it's graduated from a guerrilla pop up, to a takeaway joint in the Button Factory and finally to a larger unit on Lower Leeson Street. With a growing menu, they're soon adding dinner options by night, complete with a dedicated chef. The time spent in pop-ups and transient locations were not in vain though. Maeve used Instagram to build a loyal urban following that would support the business in its journey to new sites. "Drive yourself to improve constantly; it's never finished. Circle back regularly. Keep iterating and keep progressing".
Maeve's desire for autonomy and commitment to an idea first, before figuring it out later, has been the main driver for her success. Along the way she's benefited from an array of Government supports including the SBCI Loan, and recently the Restart Grant, Wage Subsidy Scheme and the Business Continuity Voucher made available through the Local Enterprise Offices. She used the latter to streamline her finances and install a new contactless till system. Maeve says that the local Women in Business network has been, "priceless support that brings a human element to the local business community and a great source of contacts."