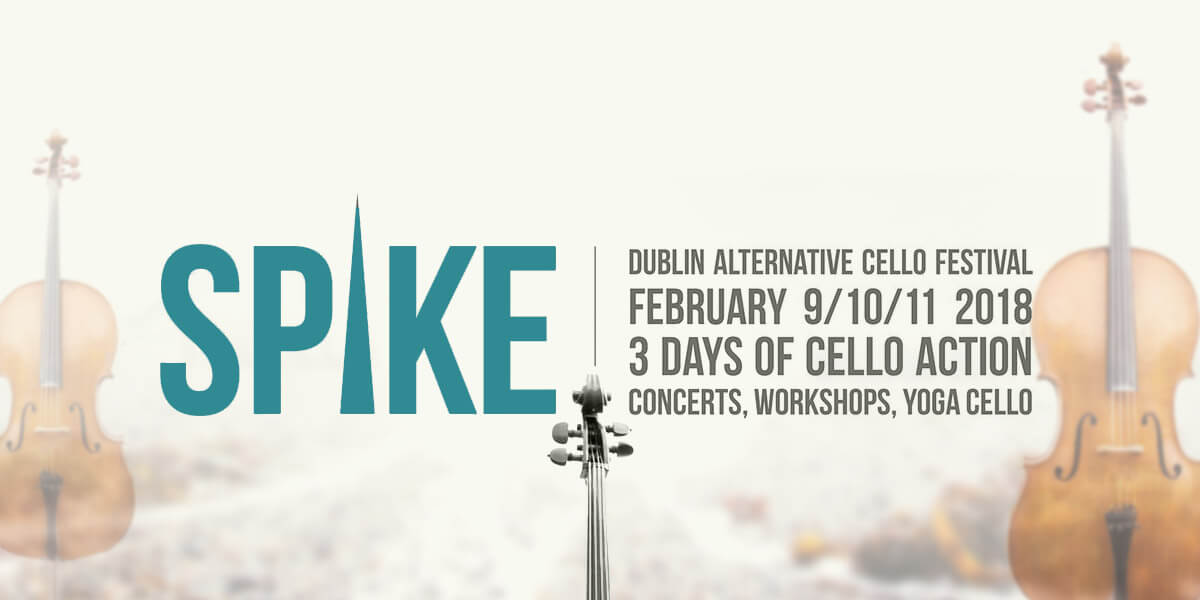 Spike Cello Festival 2018
The Workman's Club, Friday 9th February - Sunday 11th February 2018
Spike is a 3-day festival of alternative cello, including alt-folk, jazz, trad, cabaret, cello yoga and cello clowning, based in the Workman's Club.
Friday February 9th – Festival Launch
Laura Moody (UK) is a wildly alternative cellist, vocalist and avant-singer-songwriter. Fascinated not only with words and songwriting but also with sounds, noises and textures she eschews laptops and loop pedals to explore what is possible using only solo cello and voice. She creates emotive songs that reveal a multitude of influences and inhabit a unique space between the contemporary avant-garde, classical music, experimental pop and singer-songwriter tradition.
Lioba Petrie will present a brand new project, performing a live film score to screen from one of Ireland's most exciting filmmakers.
Saturday February 10th – Improvisation workshop with Zan Berry
Zan Berry (US) will lead an inspirational, improvisational workshop open to all young instrumentalists. Creative Ability Development (CAD) is a teaching practice that engages beginning to advanced string students through incorporating a sequence of improvisation exercises. Focusing a student's musical development on creative growth, CAD can help students achieve greater technical freedom on their instruments and allow students to make musical study more relevant to personal growth. The young musicians will have the opportunity to show off some of the improvisation games from the workshop and will present a 5-minute improvisation-based work that will be designed during the CAD workshop.
Saturday February 10th – All Ages Show with Zan Berry and Naomi Berrill
Due to popular demand Spike cello fest will present a show that is open to all our music and cello enthusiastic that can't make the evening performances. Naomi Berrill is an Irish cello player and singer, she's is currently based in Florence and is not only a cellist! After classical studies Naomi started a solo project for cello and voice and so far she has collaborated with cellist Giovanni Sollima, New York City Ballet, Crash Ensemble, writer Stefano Benni and many dance and theatre groups such as Virgilio Sieni who is the current director of the Biennale Danza in Venice. Celebrating the recent release of her second album "To the Sky" Naomi Berrill will perform for us with support from Zan Berry.
Saturday February 10th – Blues In Space: Rubin Kodheli (cello) & Garrett Brown (Drums) | Kodheli Cello Quartet
Blues in Space is a chaotic and intense musical experience, they somehow manage to never play the same way twice. Not quite being able to describe them is the best part…Blues in Space is just a band to experience" Led by New York City based cellist Rubin Kodheli, Blues in Space is quickly rising to the fore-front of a new avant-rock movement. As a solo artist and graduate of Juilliard, Rubin has made a name for himself performing with Roberta Flack, Henry Threadgill, Wyclef Jean, Norah Jones, Vampire Weekend, Dave Douglas, Makoto Ozone, Wadada Leo Smith, Joan Labarabara.
Their debut E.P is both raw and elegant. Working with engineer Shane Stoneback, the production value is absolutely huge with the layers and waves of sonorities, but also intimate as if you were listening to the band in a tiny performance space. With genre breaking bits of hard rock, free improvisation, pop and jazz, the lush harmonies and counter melodies from the cello bring a new dynamic not heard often.
Special guests for the eveing will include: Kate Ellis, Laura Moody and Ben Cashell who will join Rubin Kodheli to perform a selection of his cello quartet music.
Sunday February 11th – Cello Ireland presents: "Cello Voce"
Cello Voce is a collaborative project which brings together five of Ireland's cellist/singer/songwriters; Vyvienne Long, Mary Barnecutt, Kevin Murphy, Aleka Potinga, Anna – Mieke Bishop and the four cellists of Cello Ireland with Liam O'Maonlaí, a singer whose musical journey has brought him all over the world, exploring the music of Africa, India, America, Australia and Japan.
This project brings these cellists together in a new setting, and presents new work as well as new settings of original material. Within Cello Voce there will be a crosspollination of the various styles and influences, which each artist brings to the project. The resulting concert performance will be a wonderful evening, celebrating the cello, the voice, the Irish tradition and an amalgamation of styles and compositions.
---
Date:

Friday 9th February - Sunday 11th February 2018

Time:

Various

Address:

The Workman's Club, Wellington Quay, D02 VX36, Ireland
---